AUSTRALIAN LOWLINE ANGUS.
Small calves make easy calving
particularly for your heifers.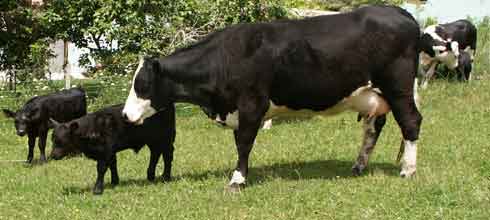 These four week old Australian Lowline Angus calves averaged 21 Kg at birth. Calving was quick, easy and unassisted for their Whiteface surrogate mothers which were 14 months old maiden heifers at the time of embryo transfer. Although very small, all calves were vigorous, hardy, and very interested in their surroundings. By six weeks they had all more than doubled their birth weights. Check how they looked at
weaning
(six months) and we think you'll be impressed.
These calves are pedigree Australian Lowline (small Angus) from embryo transfers, but small calves and easy unassisted calving can be achieved with any breed of heifer by using an Australian Lowline bull as a terminal sire. Expect small(23kg to 28kg) calves from Friesian heifers or crossbred Whiteface heifers (as in the picture) and lower from Jersey heifers. Australian Lowlines are ideal anywhere that small calves and unassisted easy calving is important, such as on your lifestyle block, or use Lowline bulls as terminal sires with your valuable dairy heifers. (Weights for beef breeds are proportional.)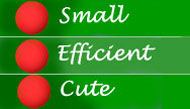 Casablanca Lowline Stud, based at Whangaehu near Wanganui, New Zealand(previously at Kumeu, Auckland) welcomes your contact about Australian Lowline Cattle.

OPPORTUNITY
Casablanca is looking for a future partner (or partners) with adequate land in the lower or central North Island) to help us continue this well known stud as our ages advance.
No money need change hands.
Contact us for further details.
You can ring us on New Zealand 06 342 6670 or
Judy and David Sainsbury, Casablanca Lowline Stud, 16 Haunui Rd, Whangaehu, Wanganui, New Zealand.
Telephone:(New Zealand)06 342 6670. Mobile:0224026559. Email:lowline@casablanca.co.nz