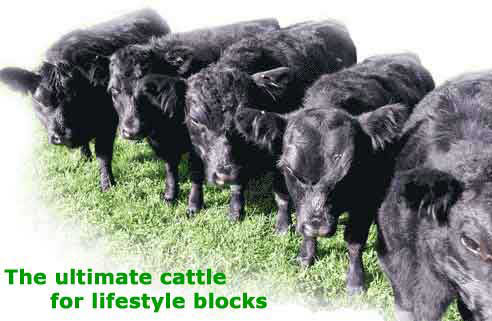 What would you prefer for your lifestyle block?
Small docile cattle that are easy on your pasture and fences?
Or the best beef return?
Australian Lowlines 
will provide both benefits
  for lifestyle block and small acreage farmers and are probably the only breed that can. Lowlines are the small Angus cattle, around 30% smaller than a standard Aberdeen Angus, which were developed through the NSW Department of Agriculture
line breeding research
into improving the breed. They are extremely suitable for lifestyle block or small acreage farming.
First up, they're small and easily handled. Mature Australian Lowline bulls  measure about 110 cm at the hip and Lowline cows about 100cm. The cows are very long-lived, producing calves for 12 to 20 years and the bulls are renowned for their fertility. Australian Lowline steers are usually killed between 16 and 20 months, at which time they weigh between 350 and 450kg. A mature bull can weigh up to 750kg although weights in the 600s are more common.
Despite their small size, Australian Lowlines are an exceptional beef breed. They're efficient protein converters, producing up to 40% more
dressed out beef
to the hectare than other breeds.
So how does the beef compare?
Well, Australian Angus Lowline beef is equal to the very best Angus beef, plus 30% more rib-eye than any other breed, and smaller, well-marbled, family-sized portions. Because the animals are smaller, the beef is more finely grained and exceptionally tender. There is even a health benefit, a higher mono-unsaturated/saturated fat ratio (good in itself) which includes CLA, omega-6 polyunsaturated fatty acids, shown to have positive benefits in heart disease, diabetes and asthma. And because Australian Lowline carcasses are smaller, they fit more easily into your freezer, so you don't need to give so much away to your mother.
If you're both working, the lower management requirements of Australian Lowlines will be a big plus on your lifestyle block. Lowlines are a docile breed with shorter gestation periods, lower birth weights and a high 200 and 400 day growth rate. (Gestation is an average 271 days compared with 280 for other breeds.) They're easily handled by women and are renowned for their problem free calving. You'll also manage with less hay.
If you already have breeding cattle on your lifestyle block, consider using a Lowline sire to produce better beef animals than you are getting at present. Australian Lowline sires significantly reduce calving problems, particularly in heifers (because the
calves are smaller
)and pass on many of the Lowline genetically selected traits such as good temperament, earlier maturity, beefiness and higher meat quality. Your home grown lifestyle block beef will be the envy of your friends and neighbours.