Casablanca Lowlines win beef cattle championships in both New Zealand
and Australia

Barbary Coast, Supreme Champion All Breeds Beef Bull at 16 months.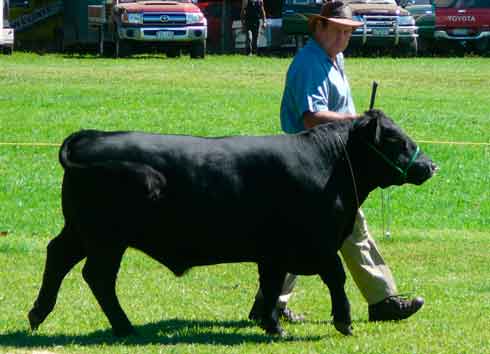 At just 16 months, Casablanca Barbary Coast cleaned up Angus, Herefords, Belgian Blues and all other breeds to become Supreme Champion All Breeds Beef Bull at the 86th Kumeu Show. We've won at international level since then, including the Sydney Royal Show and the NSW Beef Spectacular,and also at the New Zealand Royal Show, but Barbary Coast's Kumeu performance is the one we will always remember. Barbary Coast was handled at Kumeu by veteran Kiwi dairy farmer, Noel Yearbury.
Casablanca heifer Allambie Perfect Princess (seen below as a weaner handled by six-year-old Charlie Jarvis)won Junior Champion Lowline Female at the New South Wales Beef Spectacular 2008 and has since won first, second and Reserve Champion Senior Female at the Sydney Royal Easter Show.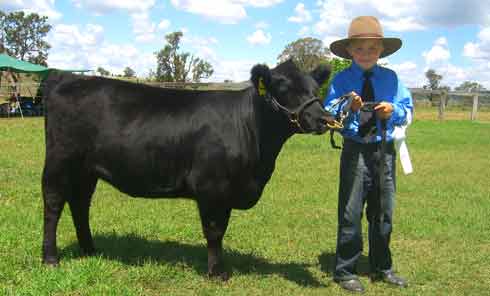 In the general classes at the Sydney Easter Show 2008 where she won two minor ribbons, Perfect Princess was handled by Australian 2008 Lowline Ambassador to the US, Emma Germany, and in the Heifer Show by Thomas Ritchie. Handled by Thomas, she has since won her adult female class at the 2009 Sydney Easter Show where she was also Reserve Champion Senior Female and was second in her class at the 2010 Sydney Royal show where Australian Lowlines were the featured breed. See below.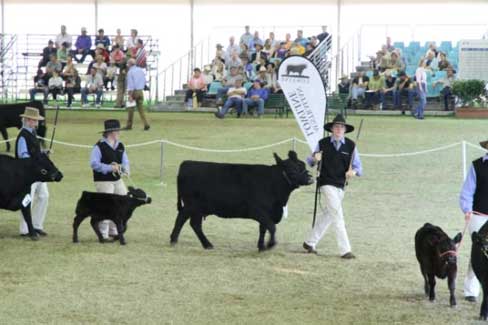 In coming second in this huge event, Perfect Princess (with her week old calf Casablanca Sam at foot) beat 14 top cows from the very best Australian studs and was beaten only by Margo Hayes' outstanding Vitulus entry, Chicks Rule. Perfect Princess' 2009 calf, Casablanca Jebel Musa, was placed fourth in the Under 12 month Bull class at the same show. Perfect Princess was bred by the late Tammy Breuer at
Allambie Stud, Dubbo
and was named by 2007 US Lowline junior ambassador to Australia, Brittney Hurd, while staying with Tammy at Allambie.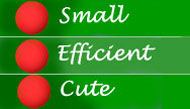 Casablanca Lowline Stud, based at Whangaehu near Wanganui, New Zealand(previously at Kumeu, Auckland) welcomes your contact about Australian Lowline Cattle.
You can ring us on New Zealand 06 342 6670 or
Email us
 or join our mailing list to receive current Australian Lowline news.
Form Object
AUSTRALIAN BEEF AWARDS
In Australia,where Lowlines were the feature breed at the 2010 Sydney Royal Easter Show, there are Australian Lowline classes at many shows and Lowline steers are a regular entry in Hoof and Hook contests.
SUPREME CHAMPION BEEF
In 2009,Margo Hayes' Vitulus Stud won Champion Lightweight, Champion Heavyweight and Supreme Champion Beef Carcass against all comers at
the Royal Brisbane show
(Queensland's famous Ekka).
Margo had already won in 2007 so this was her second Supreme Beef Championship at this prestigious event which many consider the top beef cattle show in Australia. In 2007 Harcourts Stud had reserve champion status at the Perth Royal. In 2005, Lynda Senger-Whitehead's Colombo Park Stud won the carcass championship at the Melbourne Royal Show.
MEAT STANDARDS AUSTRALIA EATING AWARD
Margo Hayes' steers have also won the Meat Standards Australia Eating Quality Award. This is the benchmark standard for high quality table beef.
TALKING ABOUT BEEF COMPETITIONS...
Wellington (NSW) High School's pure-bred Australian Lowline steer,
Allambie Apocalypse
, didn't get a look-in at the "on hoof"classes at the Quirindi Prime Stock Expo. Then came the carcass judging. Allambie Apocalypse's 87.567 score on the ABCAS evaluation system was so good it would have won the light weight section at the Sydney Royal Show. At Quirindi, he beat all light weights and was 3rd overall when the heavy weights were included. Australian Lowlines show outstanding performance in "on the hook" contests because they really are bred for better beef.
Judy and David Sainsbury, Casablanca Lowline Stud, 16 Haunui Rd, Whangaehu, Wanganui, New Zealand.
Telephone:(New Zealand)06 342 6670. Mobile:0224026559. Email:lowline@casablanca.co.nz